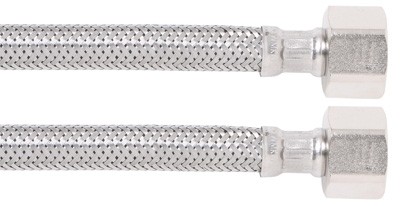 We only use 'burst proof' flexible hoses, because a burst hose can cost you dearly ...
• in 1 hour 1,500 litres flows out costing you~$5 (enough for nearly 10 big baths, or one under-eves tank);

• in 1 day 36,000 litres flows out costing you ~$135 (enough to fill a fuel tanker trailer);

• in 1 week 252,000 litres flows out costing you ~$950 (enough to fill your 10 metre swimming pool 5 times); and

• in 1 month 1,116,000 litres flows out costing you ~$4,200 (enough to half fill an olympic swimming pool).
So your 1 month holiday abroad turns into a soggy and expensive nighmare once you get home.
Watermark Certification
WaterMark Certification is a process designed to provide assurance to Australian consumers and plumbers that plumbing products used in plumbing installations are of a high standard and will work effectively under Australian conditions. In accordance with the relevant Australian Standards, materials and products used in plumbing or drainage installations must be marked in accordance with AS 5200.000 Procedures for Certification of Plumbing and Drainage Products. Approved WaterMark symbols are shown in below.

According to recent changes in plumbing law all products used in plumbing in Australia must carry this watermark. If the watermark is absent the product is illegal and should be removed and replaced by a compliant product.