... well that is what a recent government review of plumbing says.
"In Western Australia it is illegal to carry out plumbing work of any kind without a licence," according to the Pumbing Licensing Board Chairperson Howard Croxon OAM.
Did you know that you are breaking the law if you carry out do-it-yourself plumbing work?
Well yes DIY plumbing is ILLEGAL in Australia and from our considerable experience in residential plumbing we have to say there is a lot of ILLEGAL plumbing out there.
Changing a tap or toilet washer may not be very hard ... but mess up your plumbing and you risk poisoning your neighbours, shutting down the water supply ... and receiving a nasty fine from the government (read section 9 of the Plumbers Licensing and Plumbing Standards Regulations 2000).
The most common ILLEGAL plumbing we see are retrofit toilet bidet hoses commonly used in South East Asia - and actually they are great devices, but not suitable for Australia's high pressure water mains systems.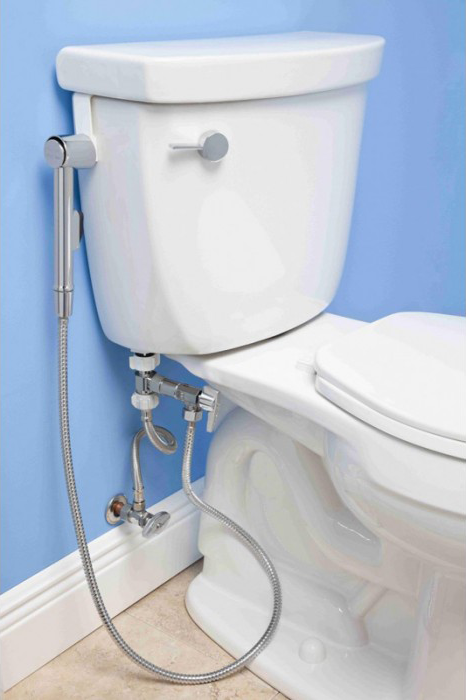 To LEGALLY install one of these bidet hoses you need a special one way valve called an RPZ valve, which require yearly testing from certified RPZ testers. Even the USA bidet hoses (like the one pictured above), with double backflow preventers, are ILLEGAL in Australia.
If you must have one of these devices, such as for cultural reasons, then call us and we can arrange for a LEGAL installation, and give you peace of mind.
And ... make sure you are dealing with a licensed plumbing. There are lots of unlicensed plumbers doing ILLEGAL plumbing and who are regularly prosecuted by the Plumbers Licensing Board.
NOTE: In Australia it is often legal to buy something but illegal to use it. That is how a market driven economy works.